Customized Professional Development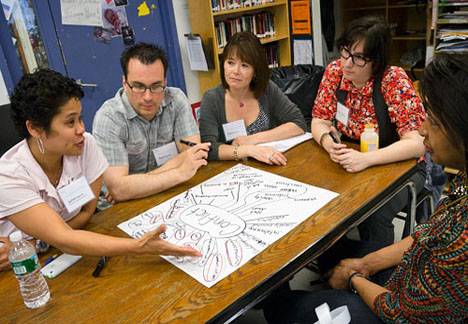 We are an approved provider of professional development programs and offer CEUs for educators. Our presenters and facilitators are experienced educators with extensive classroom and leadership experience. Following the teachers-teaching-teachers philosophy of the National Writing Project, CTWP Teacher Consultants guide fellow educators through programs that are based on research-based best practices and classroom-based trials of those practices. Consequently, our Teacher Consultants are well-versed in current trends, demands, and challenges of the diverse learning environments in Central Texas.

When our Director for Professional Development meets with campus or district leaders, the first objective is to examine the needs of the teachers and students. A context-specific plan is then negotiated with the campus or district leaders and a contract is established to formalize the professional development plan. The CTWP does not deliver pre-designed packages, but rather, provides professional development programming that fits the needs of the contractor and the expertise of the Teacher Consultant.

Various types of professional development delivery have been provided to local schools/districts. Following are some examples:

Workshops
Half-day or full day interactive workshops are conducted during campus/district inservice days, after school, or on Saturdays.

Open Institutes
Multiple day event is conducted during campus/district inservice days, after school, or during the summer; it is often focused on a topic (such as argumentative writing) or targeted to a particular audience (such as writers workshop practices for new teachers).

Book Studies
Multiple day meetings guided by a facilitator to review/discuss of one or more professional publication/s; a book study can be included in a workshop or institute or it can be a stand-alone program.

One-on-One Coaching
Teacher Consultants model strategies in a teacher's classroom and work with the teacher to plan one or more lesson/s, engage with students, and debrief afterwards.

Teacher Inquiry
Teacher Consultants guide teachers as they design an action research study which entails formulating a research question, reviewing literature that informs the question, designing an investigation, gathering data, determining the implications of the results, and adjusting instructional delivery practices.

Young Writers Camp
Teacher Consultants conduct a one or two week camp on a school campus for students in grades 3-12. Students engage in rich experiences that encourage them to use language in creative and effective ways.